First up congratulations for planning your trip to Andamans. The pristine blue waters and the lonely islands are an embodiment for a great retreat. It takes a two-hour flight or so to reach this beautiful place. Located in the middle of the Bay of Bengal its a wonder for every adventure lover
We you a list of everything you need to make your need to pack to make this vacation hiccups free.
What women need for their Andaman Trip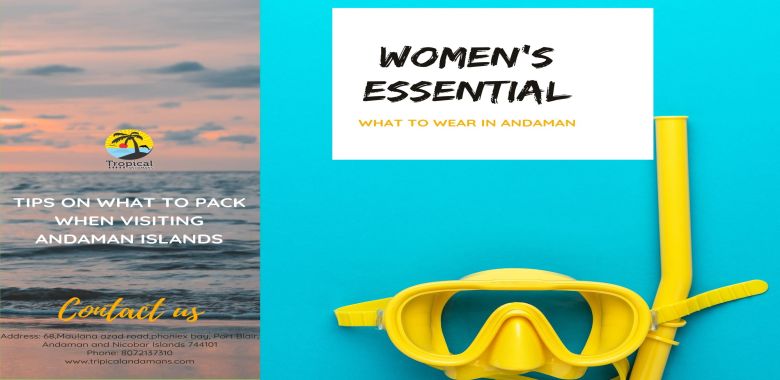 Sunglasses: Sunglasses are the most stylist addons for every outdoor activity. Here, the beautiful sunny seashore makes it a must-have. Keep it safe in your travel bag. The pro tip is to determine the style that flatters your face shape. Aviators look great on a round face. For an oval face, everything goes well. Get what suits you the best or go experimenting on different styles.


Hats: Hats are one of the style statement as well as an essential in a beach. We recommend straw hats to keep the heat at a bay. Game up with a derby hat or a bucket hat. Plain summer cotton cover hat is back in trend. All of them serve the purpose of blocking the sun damage and take your oomph level to a greater high.


Sunscreen: The beauty of the islands is unbeatable in summer. Sunshine amplifies the beauty of the blue-green water and silver sand. It also comes with some amount of sunburn. And to make sure you avoid it, carry a sunscreen. They absorb the harmful UV rays and protect your skin. These lotions and sprays are easier to apply and we suggest an SPF 30. But you can also use any SPF above 25. Reapplying every two hours is very important. In that way, you will not look very discoloured after the vacation.


Footwear: Footwear in the islands needs to be comfortable and cool. We suggest ditching those stilettos and wedges. Pick up a pair of either beach crocs, flip flops, beach slipper or any open-toe sandal. Carry a running or climbing shoes in case you anticipate some trekking or jogging.


Jewellery: Avoid diamond, silver or gold. Carry some chunky jewellery to keep up the style quotient fro all the vacation pics. Go boho with your jewellery style. Get those dangling earring and shell necklaces and beautiful beads. Be sure to take off your gold or diamond ring before a dip in the water.


Hair Dryer and hair styling A hairdryer is a necessity often overlooked by many. A beach day will call for lots of hair wash. Condition your hair with a serum after wash. Keep a travel-size shampoo, conditioner and serum pack.


Hair oil This is an absolute trade secret. Nobody tells this and many don't know either. Hair oil is that magical serum to protect your hair. Use that readily available coconut oil before you take a dip into the salty water. You will be thankful for this pro tip once you rinse your hair in normal water.


Makeup essentials Makeup should be basic. Don't carry the whole contour set. Carry a good foundation, your favourite lipstick, one eyeshadow pallet and a good eyeliner. This should do the trick for dinner and dates.


Types of clothes
Clothing is the most vital part. And styling requires deliberate reflection. Clothing is very personal and unique. However, we do suggest a few styles which will be compatible with the weather and scenario.
Spaghettis and tanks the best bet for a beach day. It gives you enough room to feel free and enjoy the sunshine. These can also be paired up with anything. It is also easy fashion with all the coats, scarves and shrugs.


Swimsuit Lets put an end to the nightmare of picking a flattering swimsuit. From curvy to athletic body type, there are different swimsuit to flatter the figure. The key to the perfect swimsuit lies in proportions of your body. With a pear-shaped, we suggest a string bikini paired with a scarf around the hip. Also, choose wisely between style and comfort. A very pretty bikini may come in way of surfing or adventure sport.


Tote Bag: Tote bag is a must-have. It is an easy and fashionable accessory to complete the look. It also serves a good purpose. Store all your essentials, from sunscreen to cloths, everything will fit perfectly into these spacious bags.
Pro Tips
Don't Drink too much when you hit a bar.
Yes, we all have been there. Those nights with an empty stomach and lots of alcohol. Sounds real fun. But here it may be accompanied by a certain level of consequence. The islands lack a big pub culture, hence we suggest discernment and discreteness with the merrymaking. Make sure that you have eaten something heavy before you head for alcohol. Also, be conscious of the quantity.


Hydrate
Water is that magic portion which will substantiate the quality of your day. Since the major activities will be during the day, make sure that you carry a water bottle. Be well hydrated. This will prevent fatigue from setting in and keep your body cool.


Book A good and clean Hotel
Book a good star hotel for the stay. Take extra precautions. Eat from Hygienic restaurants and use hand sanitizers.
Men's essentials for travelling to Andaman Islands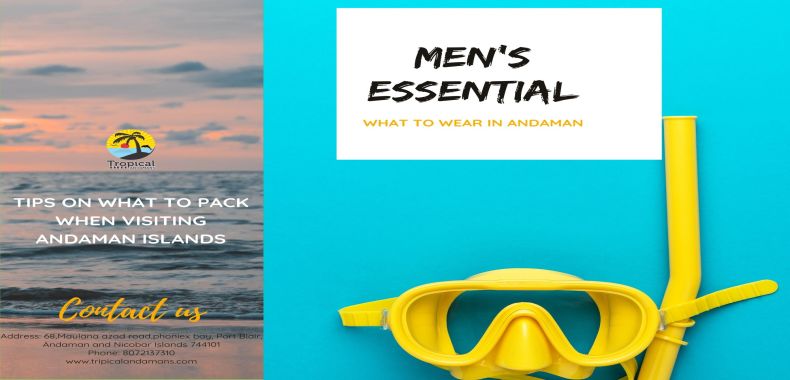 We haven't forgotten about our beach boys. Here we offer scrupulous fashion wisdom to match that hard-earned beach body.
Swimwear:
This seems pretty basic. But the intricacies of this decorous piece is often neglected. The basics are to invest in short and well-fitted water shorts. The fabric must be a quick dry polyester. It will help with a quick rinse and reuse for the next day. One with deep side pockets is quite a champion. Keep your essentials in them while you fancy a stroll.


Linen shirts and chino shorts:
Shorts sound fine but bet you got stumped at chinos. If you haven't heard of them, here's the revelation. They are your humble loose trousers with lots of pockets. It makes sense because they are comfortable, stylish and practical all at once. Get a good colour or two to maintain the style quotient.
Linen shirt, when paired along with shorts, eludes a very sleek and on-point look for a vacation. Picture yourself in this with a hat and cocktail. Absolutely perfect! We suggest experimenting with colour, shades and patterns. For shirts floral is our personal favourite.
Must not forget
Don't miss out on carrying a good hat and good looking pair of shades.
Must certainly avoid:
Jeans! Jeans! Jeans!

We cannot emphasize this more. Don't overload your trunk with that pair of jeans. It's not only a bland look for the beach. It's also difficult to clean and reuse for the next day.