About Barren Island
Barren Island is a small Island located at a distance of about 135 km from the capital city Port Blair, in the Andaman sea. The only location in India where the volcano is still active and the Island is one of the places with no living humans, Where you can only find some animals like flying foxes, birds, goats, rats and more animals , you will find black sand beaches in every direction as far as your eye goes.
The Island is not popular as the other in Andaman & Nicobar, the Island is also known as the hottest region in Andaman and Nicobar, In this active Volcano The first eruption happened in the 17th Century, and the last eruption happened in 2017.
Thousands of visitors across the world come here just to experience an amazing view of the active Volcano in India, Travelers usually take a water boat ride to look out at the island from a distance without getting to the Island, Also this place is one of the popular and best places for Scuba Diving, also lots of scientists visited the Island in the past years for research study as well as analysis of the ground.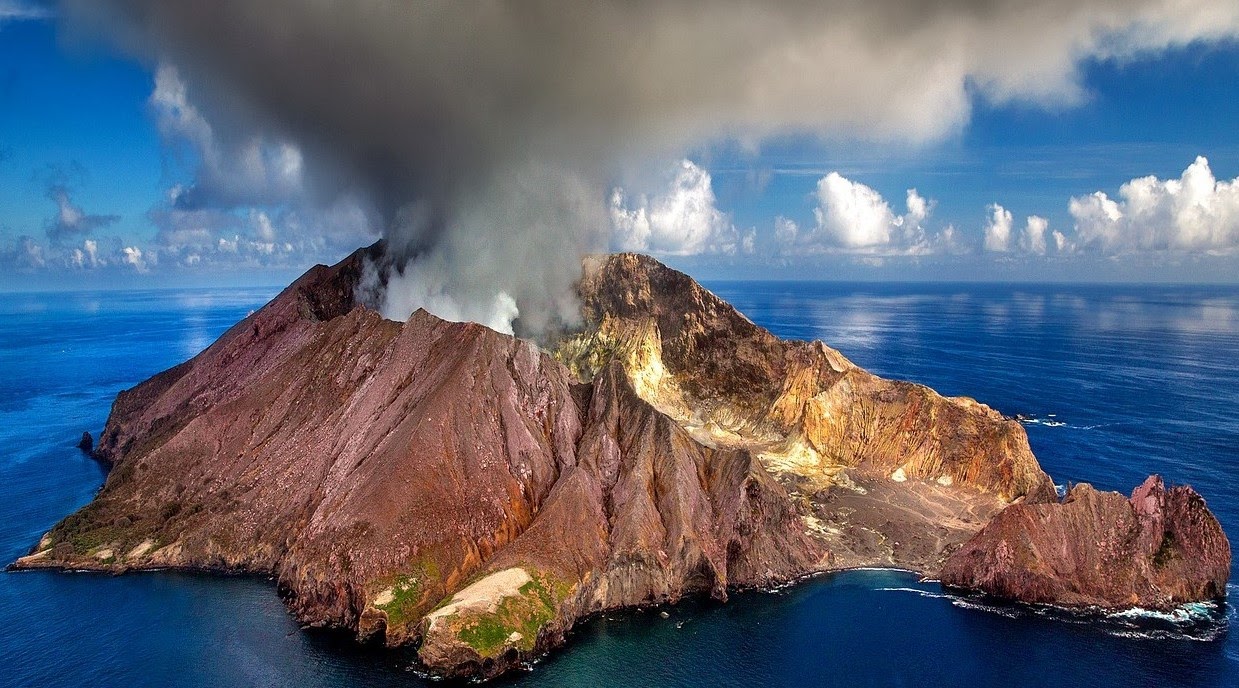 How to Reach Barren Island
To visit the Barren Island where nature shines its beauty a permit will be required by the forest department of Andaman and Nicobar Government. Ferries services are available as well as water boats that can take you to the island. It will take almost 3-5 hours of riding to reach the island from Port Blair , the capital city of Andaman and Nicobar.
However, because of the volcanic eruptions, visitors need to sustain themselves with a view from the sea, not allowed to get closer to the volcano. Also, water boat riding allows you to see spectacular views around the beaches, which is not less than a dream for travelers. The complete trip will take about 7 to 8 hours to complete with ample amount of time to see the beauty of the island.
Best Time to Visit Barren Islands Volcano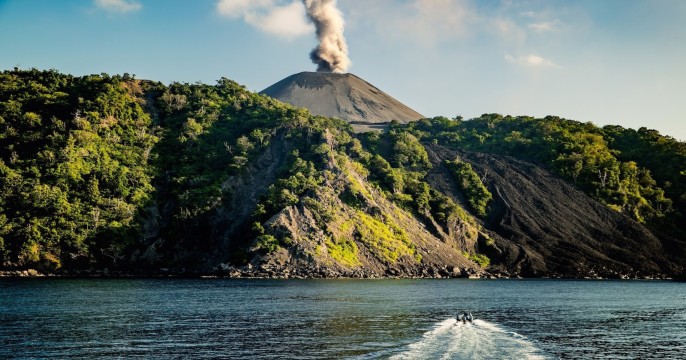 Source: https://round.glass/
As Night stays are not allowed So you can start your journey for the morning to the island that you can enjoy there for a few hours before you come back, it will be good if you start traveling at 4-5 am, And when it comes to visiting in a perfect and clear whether then November to February is considered the best time to visit Barren Island. Most visitors like to visit from December to January.
The Best Things to do & See in Barren Island
Barren Island has some of the cools things to do as it is also known as one of the beach travel destinations of Andaman But as you can find active volcano here you can only do few things, The Island doesn't allow to do a lot of water sport or activities, And Here are the best things to do & see in Barren Island,
1. Active Volcano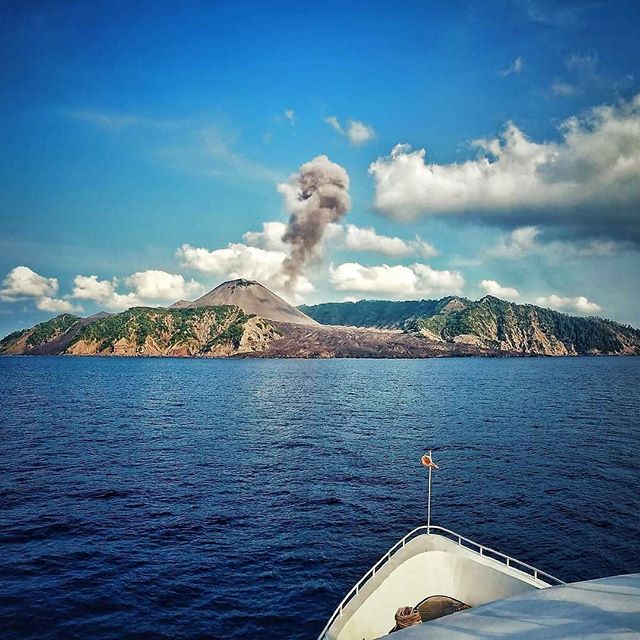 Source: https://thethaiger.com/
Have you ever visited a place where a volcano is active? No, then this is the only place in South Asia where a volcano is still active and visitors are allowed to visit the Island. So this one is the prime thing you can do, visit this active volcano which makes this place popular, and one of the best travel destinations in Andaman and Nicobar,
Because The Island is known for its active volcano. Visiting this active volcano will give a different cool thrilling experience, which cannot be described in words, can make your vacation perfect, and visiting this can give you the best experience of traveling to one of the Islands of Andaman and Nicobar.
2. Scuba Diving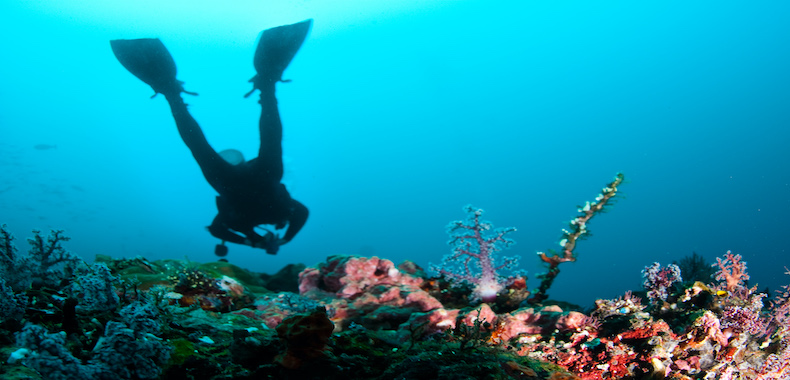 Source: https://alnahditravels.com/
This water sport provides divers a great insight & unforgettable view into the life beneath the ocean and travelers always love to do it especially in Islands and Beaches. To do activities like Scuba Diving and Surfing You need the complete guide by the water sports experts before doing it, because going to underwater can be risky if you have not done anything like this before, and If you want to witness the innumerable number of aquatic creatures then Scuba diving is the only option, to see variety of fishes, other animals living inside the ocean. Doing this thing can make your vacation memorable.
Colorful underwater surface will surprise you with its beauty. try this cool thing. It will definitely make your journey to the island memorable. Don't forget to take some action camera shots to catch your memorable moments. Keep in mind that If you are coming to Barren Island especially for Scuba Diving, the best time to dive is by the end of December. You will get clear weather, a brilliant amount of visibility inside the water,
Ideal for: Adventure, Nature lovers, Family, Friends, Couples
Timing: You can do it for 45 minutes - 1.5 hours
Cost: It will cost you over INR 3000/person, also depending on time and duo packages you prefer.
3. Photography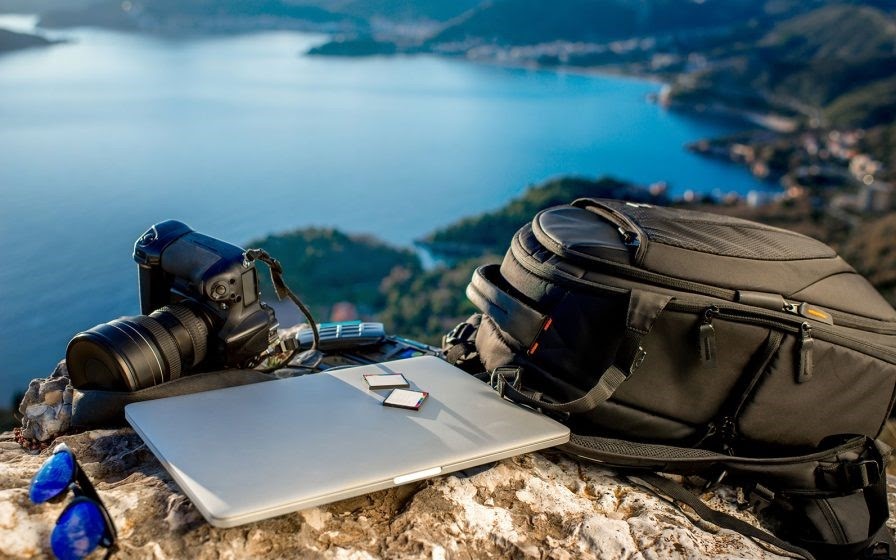 Source: https://www.naturettl.com/
Maybe you are not a professional photographer but photography is a hobby of millions. and Travelers love to take some incredible moments when they travel to a new destination, And The Island's crystal blue water will give an amazing & natural view so taking some images can make your trip more special.
You don't need professional accessories to do normal photography. You can catch some awesome moments with a mobile camera during your trip with your friends and family. Or if you are a professional then this Island has something very special for you, You can take some images of flying foxes and birds using a wide range photography lens, Overall, the Island has some cool things to capture.
So now you have a complete idea about the Island, where to go, how to reach, what are the best things to do and see? And all these things together make this Island one of the Best travel destinations to visit in 2020. and visiting an active volcano within the territories of India is worth experiencing. So if you are looking to visit a place to enjoy your holiday then pack your backpacks and visit this amazing destination to take your travel experience to the next level.
More Important Tips to Follow
Visiting this place without permission is not allowed, take a permit from the forest department of the Andaman & Nicobar Government.
Carry your ID cards like Adhar card, Pan card, Passport, Driving license with you as it will be required to get a permit and tickets.
Night stays are not allowed, So plan your trip and schedule for the morning.
Ferries services are available from Port Blair ask your guide to get it.
Carry some foods & water with you, it may help you.
Frequently Asked Questions About Barren Island
Q. Can we go to Barren Island?
Yes, But as Barren island is one of the restricted zones of India, visitors should take special permission from the forest department, and also no one is allowed to spend a night here. open for day visits only.
Q. What type of volcano is Barren Island?
Barren Island is an active volcano in South Asia and this island is spread across an area of 3 km. The opening of this volcano was created due to a major blast sometime in history.
Q. How many times has the barren island erupted?
The exact number of eruptions is still unknown as the volcano is about 1.8 million years old discovered by research. However, in the recorded history of 2-3 hundred years, the volcano has erupted for more than 10 times, with the first one happening in the year 1787.
Q. Is barren island the only active volcano in India?
Yes, Barren Island is only confirmed active volcano in India,
Q. Is barren Island dangerous to visit?
Yes, absolutely. As the Island is home to an active volcano and no one has the idea when it will erupt for the next time So it is dangerous. You can watch from a safe distance in your boat, but it definitely will not be a good choice to get closer to the island. That's why a permit is required by the forest department.
Q. When did Barren Island last erupted?
The last eruption happened in 2017 as recorded After the eruption happened in 2004.
Q. What is the importance of Barren Island?
The Barren Island is situated at the Andaman sea and it is the only confirmed active volcano in India also in South Asia. and a famous place for scuba diving.