Cellular jail which is also known as Kalapani jail is one of the most important national monuments from the days of Indian freedom struggle.
Where is the cellular jail located?
Cellular jail is located about 2km from Port Blair city center. Some portion of the old jail building is now converted into Portblair general hospital.
There is also a museum attached to the jail complex.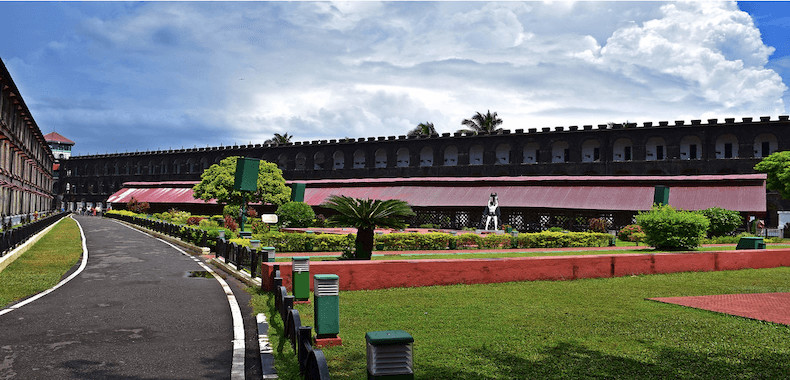 Who built cellular jail in Andaman and why?
The cellular jail was built by the British in 1906 into the gigantic structure we see today.
There was an open jail in Andamans before the fortified cellular jail was built.
The jail during its glory days consisted of 7 gigantic wings that had hundreds of cells that were used to house political prisoners.
The tales of horror committed by the raj still echo in the corridors of the remains of this gigantic structure.
During the British raj the jail was notorious for its isolated location and unforgiving conditions.
It was referred to as the Kalapani jail among the freedom fighters in mainland india during the independence movement.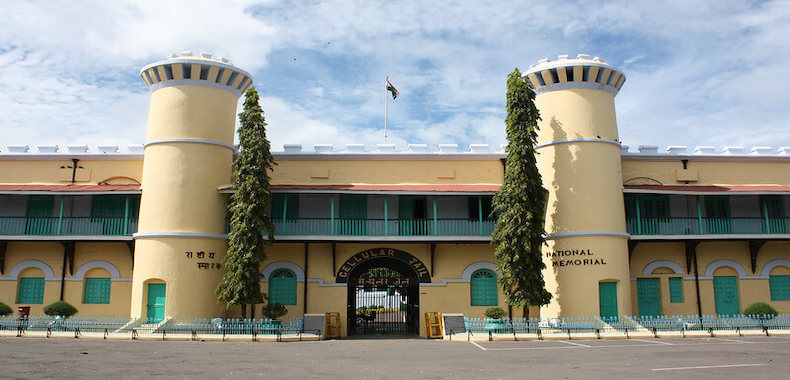 Kala is a reference to death which was considered to be the inevitable end for those doomed to serve time there and Pani which means water was a reference to the remote location of the cellular jail.
The waters of the Andamans were feared by the prisoners. This island was isolated from the mainland and there was no means of escaping this place.
What is special about the architeture of cellular jail?
The eminent and legendary Cellular jail was built by the British over a period of 10 years at Port Blair.It was the most feared and formidable colonial prisons that ever existed.
The cruelest of the punishments were inflicted upon the prisoners and finally, they were hanged to death.
Many notable dissidents such as Batukeshwar Dutt and Veer Savarkar, among others, were imprisoned here during the struggle for India's independence.
The jail was built with local stone which was mined from a nearby mountain by the prisoners.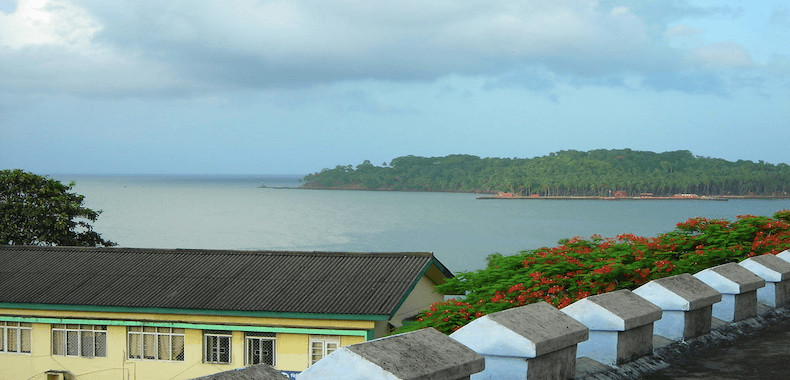 About 20,000 cubic feet of local stones and 30,00,000 bricks made by the prisoners were used for the construction of Kalapani jail.
The architecture of this place was based on the Panopticon model.
Panoptes in Greek mythology was a giant with hundred eyes and was known to be a very productive watchman.
The building had seven wings and a tower at the center which was used by guards to keep watch on the inmate.
The concept of the design is to allow all (pan-) inmates of an institution to be observed (-opticon) by a single watchman without the inmates being able to tell whether or not they are being watched.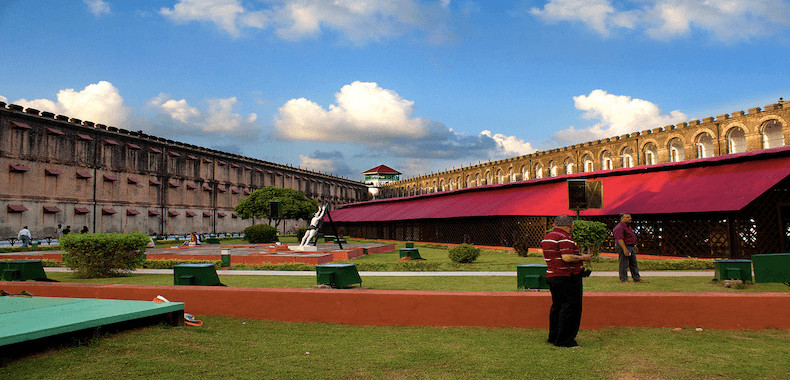 Since it was impossible for the single watchman to observe all cells at once, the fact that the inmates cannot know when they are being watched meant that all inmates would feel they are watched upon all the time.
The wings radiated from the tower in straight lines, much like the spokes of a bicycle wheel. A large bell was kept in the tower to raise an alarm
This jail had nearly 693 cells. Each cell was 3meter in width and height.
The name cellular jail stays true to its meaning "solitary prison" , for any kind of communication was impossible and also forbidden here.
The jail is built overlooking the historical British headquarters of Ross Island .
Famous prisoners of cellular jail
Most of the prisoners of the cellular jail were freedom fighters.
Some famous inmates of the Cellular Jail were Diwan Singh Kalepani,Fazl-e-Haq Khairabadi, Yogendra Shukla, Batukeshwar Dutt, Maulana Ahmadullah, Move Abdul Rahim Sadiqpuri, Maulvi Liaquat Ali, Babarao Savarkar, Vinayak Damodar Savarkar, Bhai Parmanand, Shadan Chandra Chatterjee, Sohan Singh, Vaman Rao Joshi and Nand Gopal.
Many of the freedom fighters died in the gallows of this jail. Mahavir Singh, who was a follower of Bhagat Singh, Mohit Moitra and Mohan Kishore Namadas were a few freedom fighters who died here.
While many tried to escape and were caught.
Veer Savarkar planed the famous escape from cellular jail but was Caught by jail authorities when boarding a ship to mainland india
The modern history of Andaman's cellular jail
It was in 1942, that the Japanese invaded and captured Andaman's, however, British took over post world war 2.
Post-independence this place has been one of the most revered National Memorial and is a must include spot in your Andaman tour package.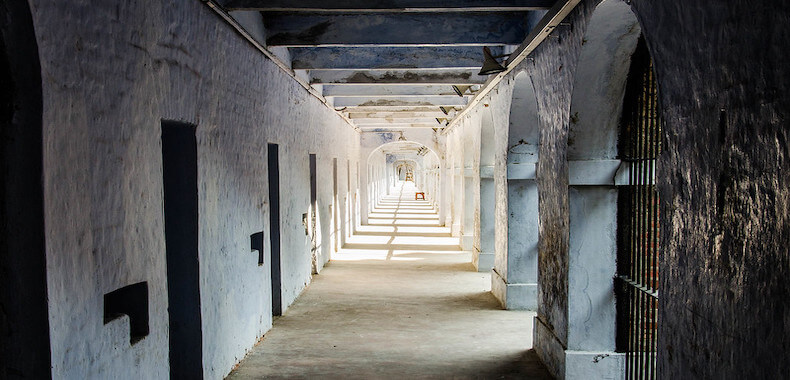 The place has a unique light and show for the tourists which takes them through the journey of the independence struggle.
Cellular jail Andaman Light and sound show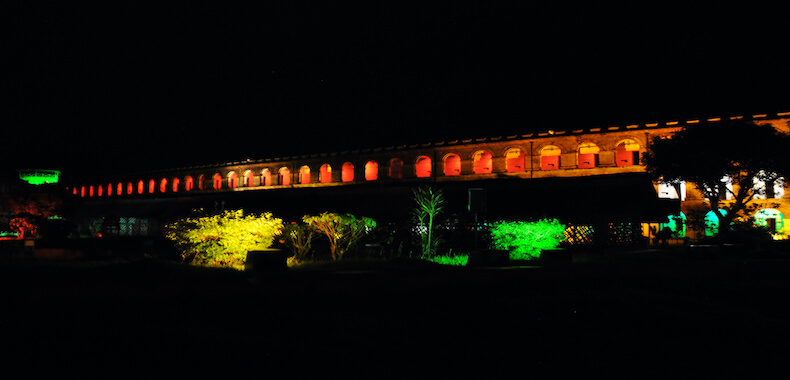 Light and sound show is a theatrical representation of the life of freedom fighters in cellular jail.
The light and sound show tries to showcase the hardships faced by the prisoners and the struggles.
The show is a spectacle of colorful lights with a very engaging commentary.
The light and sound show at Cellular jail is sure to kindle the inner patriot in you.
Cellular jail museum
Cellular jail has a museum attached with the jail complex which was built after the jail was turned into a national monument .
The museum has the list of all the notable freedom fighters who have stayed in the jail.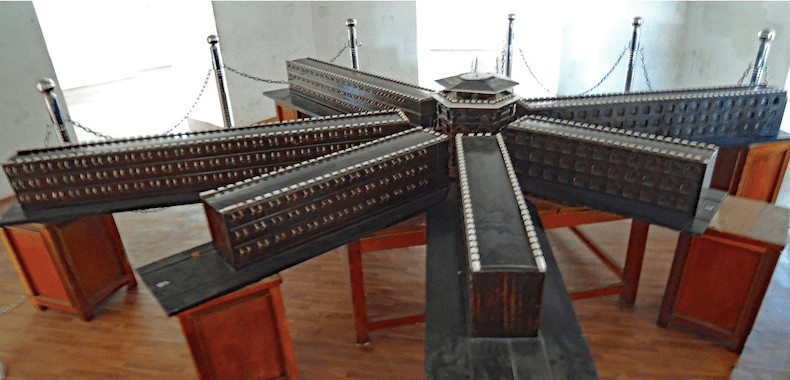 It also has many interesting facts and details about the jail's history and architecture.
It also has many interesting facts and details about the jail's history and architecture.
It also has many interesting facts and details about the jail's history and architecture.
Cellular jail and light and sound show timings
Cellular jail is open all days except Monday :   0900 am - 1230 pm and 01:30 pm to 05:00 pm
Tips for travellers visiting cellular jail
1. Cellular jail has a museum that has a lot of historical artifacts and stories about it's prisoners which is a must-visit.Please note that the museum closes at 5pm.
2. The light and sound show which is a theatrical saga of the freedom struggle in andaman's is conducted after sunset on the jail premises.
3. The Light and Sound show is conducted in Hindi and English.
4. The light and sound show has limited tickets available and it is advisable to talk to your travel agent and arrange tickets beforehand.
Frequently asked Question from our guest?
Is it possible to book cellular jail tickets online?
Yes, tickets can be booked online on the Andaman Administration site, but the process is quite complicated and involves creating an account and approval.
do we need to book cellular jail tickets in advance?
It is not necessary, but it is better to book it a couple of days before you arrive or ask your Tavel to book it for you.
Do you charge children entry fee?
Yes, children are charged half the price of the ticket
What's the best way to see cellular jail?
Cellular jail is set up like a museum with an entry and an exit designed in such a way that it covers all the important spots.
You can always wander off and explore the complex by yourself if interested.
How long it takes to visit cellular jail?
Usually, it takes about an hour to complete the tour of cellular jail and the museum. However some tourist like to spend more time exploring or taking photos.
Can we take photos and videos inside cellular jail?
Yes photos and videos for personal use are allowed. But if you want to do a photo shoot or a commercial videography prior permission needs to be obtained.
Is cellular jail closed on Mondays?
yes, cellular jail is closed on all Mondays but light and sound show is available .so make sure to talk to your travel agent and coordinate accordingly.
Is cellular jail open on Sunday?
yes, cellular jail is open on all Sundays and Saturdays.
Is cellular jail open on public holidays?
Sadly no, cellular jail remains closed on public holidays.
What attractions are near cellular jail?
Many of the attractions are within walking distance from cellular jail like marina park and water sports complex.
What hotels are near cellular jail?
There are several hotels and small restaurants near cellular jail which are selling local and Indian cuisine food.
but we advise you to carry water and some snacks if you are traveling with children.
What are the timings of light and sound show?
The light and sound show starts in the evening every day.the detailed timings are given in the table above.
Is light and sound show available in other languages?
Yes,light and sound show is available in English and Hindi.
How much does light and sound show tickets cost?
Tickets of light and sound show cost Rs 150/- for adults and Rs 75/- for children.
How long is the light and sound show?
The light and sound shows duration is 45 minutes.
Can we finish the city tour is one day if we visit the cellular jail?
Yes, you can complete the city tour of port Blair if you visit cellular jail on the same day.
Although you will be forced to spend very little time at all the attractions.if you have enough time we suggest that you cover a few places in the city and complete the city tour on another leisure day.
Best time to visit cellular jail?
Cellular jail is open from 0900 am in the morning but we suggest you visit during the afternoon so that you can attend the light and sound show at 6 pm as it is very popular with tourists.
Why is cellular jail called black water or kala pani?
Known as Saza-e-Kalapani (black water punishment), this was dreadful Black water or Kala pani is basically the other name for Cellular Jail .
It was the second most brutal punishment during the british raj after death by hanging.